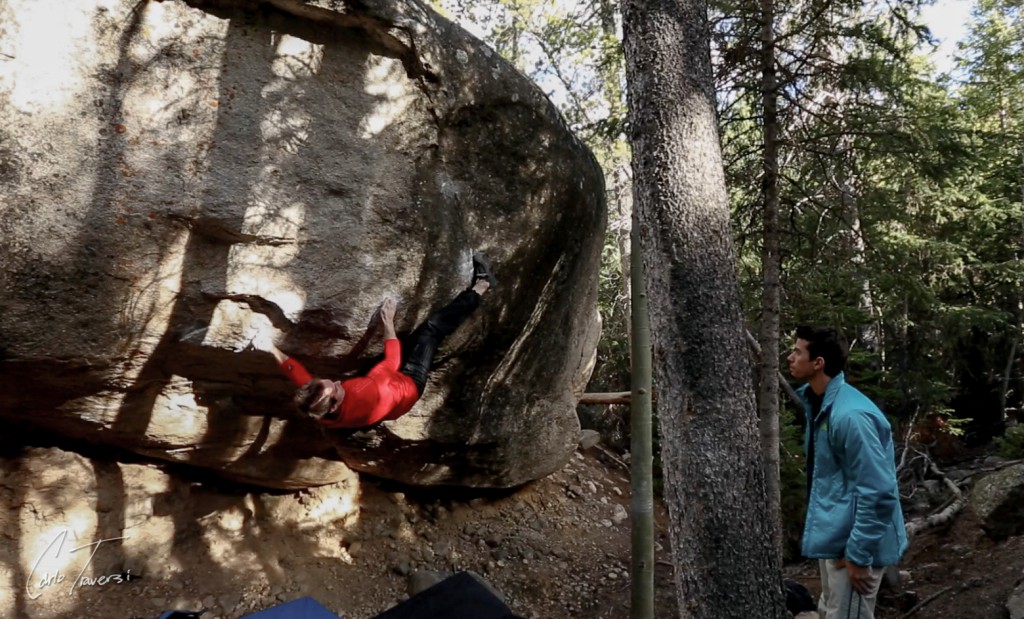 It's been a rough week or so trying to regain some fitness, but I've found solace in returning to the outdoors to rekindle my motivation and maintain hope in regaining some serious loss of confidence in my climbing ability.  2+ weeks of sitting on the couch pretty much makes me feel like a worthless piece of shit.  I belong in the outdoors, pushing my limits and working my body to exhaustion.
A couple days ago I headed back into the Alpine, Wild Basin to be exact, for a no expectations day on the rocks with my good friend Jonny Hork.  From the the moment we entered the vibrant, forested landscape and began the approach I could already feel some life returning to my dormant mind.  Psych was high.  First stop was the problem Tetris, which without direction proved a little difficult to find, but eventually we spotted the compression classic.  With zero expectations and hardly a warmup, I pulled off the ground from the obvious start holds and executed the moves to the top out.  Without much beta to work with (likely circumstances on a flash go), I fumbled the last rock over onto the slab top out.  Surprised with the effort, I took a try or two to sort the top, and climbed the boulder on my 2nd go from the start.  I'm not a huge fan of the grading system in general, but I do choose to participate, and I always take the time to assess and compare the difficulties of individual challenges to other problems that I have experiences with.  V10 felt like an appropriate grade for Tetris.  Similar to Whispers of Wisdom but a touch less powerful and committing.
I understand this is a far cry from the original proposal of V13 and the consensus of V12, but it is my opinion and I'm entitled to that.  And the same goes for my V12 grade proposal for The Grey (originally proposed at V14), which I quickly repeated later that day.  You can take it or leave it.  They are purely opinions from one person.  I know people in the past have had issues with my grading proposals, but in my defense I do take the time to assess things as rationally as possible.  I compare and contrast style, conditions, type of rock, my current fitness, etc.  It's all an important part of the process. At the risk of coming across as an egotistical prick, I will continue to give my personal opinion on the grades of things that I have experience with.  And to all the haters, maybe it's time to really assess the potential truth that the real ego is coming from the other side of the table.  I gain nothing career wise by downgrading and have never expected too, but I do sleep a little better at night knowing that I was honest with myself and the world about that little number attached to those little pieces of rock that we love to obsess over.  It would be really inspiring to see some of the "capable others" step to the plate and offer more personal opinions in regards to the numbers, instead of continuing to propagate the media frenzy that follows these sometimes overhyped ascents.  We need to step away from our need for instant community applause and be content with the few accomplishments that are at first understated but may ultimately transform into legend.
I know this little climbing day report quickly turned into an opinionated rant, but this type of stuff has been on my mind lately and I feel that it needs to be said.  I hope some constructive conversation may come of it.
This weekend I am off to Vail for my 6th? annual Vail Bouldering World Cup at the Go Pro Mountain Games.  I'm excited to get out of town, enjoy Vail, and represent America on our home turf.  Hope to see everyone up there.
Here's some video of my send of The Grey:
The Grey • Wild Basin from Carlo Traversi on Vimeo.