It's been a long while since I've released any significant amount of video footage.  If you could see the stack of terabyte hard drives on my desk, you would know that it's not because it wasn't captured in the first place.  I film everything.  In the past I filmed more for professional reasons related to my life as a professional climber.  But lately, after looking back on all the old footage, I'm finding more and more value in it on a personal level.  Climbing has been the most dominant theme in my life for more than 10 years.  As I get older, I'm finding it harder and harder to keep everything in perspective, especially in regards to personal progression over spans of time.  And I think it probably only gets more difficult.  But as with anything else of this nature, awareness is your first line of defense against "falling out of touch".  And for me…watching old climbing footage.  The interactions, adventures, and struggles of the past provides quick contrast to my life of now.
Despite this change in motivation, after experiencing the development of "the circuit" this past spring in RMNP, watching it unfold and filming much of it; I was inspired to try and share the experience of it all with the world.  I teamed up with PRAK Media (Paul Robinson and Alex Kahn) and Bear Cam Media (Cameron Maier) and quickly the movement toward creating a film was born.  Less than 2 months later and I'm proud to present: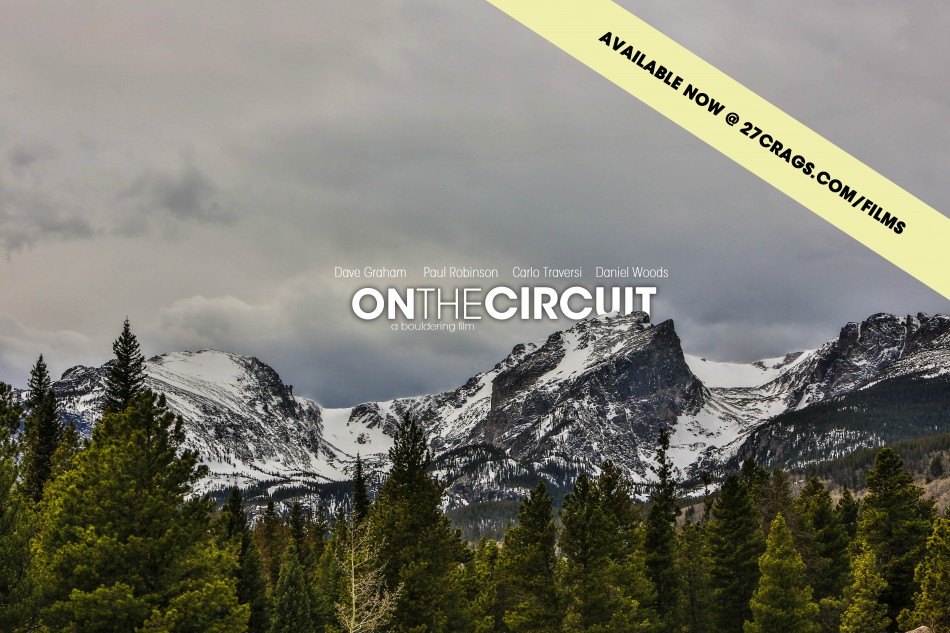 In the Spring of 2012, four of America's Best Boulderers converged in Rocky Mountain National Park, Colorado in search of something new. Follow along as Dave Graham, Paul Robinson, Carlo Traversi, and Daniel Woods, establish and repeat some of the world's most difficult boulder problems that surround the now infamous Bear Lake Road.
On The Circuit was filmed and produced by the athletes themselves, giving you an exclusive chance to see first hand the culture of development that defines and progresses our sport.
Featured Climbs:
Dave Graham
• Tetris V13 (First Ascent), Wild Basin
• Achromatic V13 (First Ascent), Bear Lake Road
• Pocket Frogz V13 (First Ascent), Elkland
Paul Robinson
• Paint It Black V15 (2nd Ascent), Bear Lake Road
• Mirror Reality V14 (3rd Ascent), Bear Lake Road
Daniel Woods
• Achromatic V13 (2nd Ascent), Bear Lake Road
• Dead Meadow V13 (2nd Ascent), Wild Basin
Carlo Traversi
• Bear Toss V13 (3rd Ascent), Bear Lake Road
• Sparkle Motion V11 (2nd Ascent), Wild Basin
• Child Of God V11, Bear Lake Road
HD Download • $9.99 • 27crags.com/films
OFFICIAL TRAILER: