Two weekends ago I had the opportunity to travel to Boston, MA and compete in the 2012 Dark Horse Championships at Metro Rock.  Prior to my departure for Boston, the week had been a bit hectic.  And the "joys" of traveling were about to make things a bit worse.  The same day of the Dark Horse Championships was also the final competition of the Spot Bouldering Series for which it is my responsibility to manage the setting of all the competition problems.  I spent Wednesday, Thursday,  and Friday stripping and setting The Spot for it's comp and at the end of the day Friday hopped on a plane to Boston for the Dark Horse competition.  Not much rest for me, but hey, sometimes you have to make things work.  I barely got to my gate on time at DIA on Friday (after a stressful drive in a blizzard to get there), but started to relax soon after finding my seat on the plane.  I popped my headphones on and closed my eyes for what seemed like a fairly long amount of time.  Upon opening them, I realized we were still parked at the gate.  Sure enough, the pilot announced something about mechanical issues, a 1.5 hour delay, and a mandatory evacuation of the plane.  1.5 hours in the terminal followed by another 1.5 hours on the runway (de-icing) and we were finally off.  Luckily for me, I arrived in Boston at 1 am which meant I had missed the last subway train at 12:30am.  Next best option:  $50 taxi ride to go 10 miles to the hotel.  In comparison, the subway ride is $2.  Sweet!  At least the epic travel adventure day ended nicely; Metro Rock was kind enough to book hotel rooms for all the athletes traveling from out of town.  Thanks Metro Rock!  Having a nice place to crash before a competition is KEY!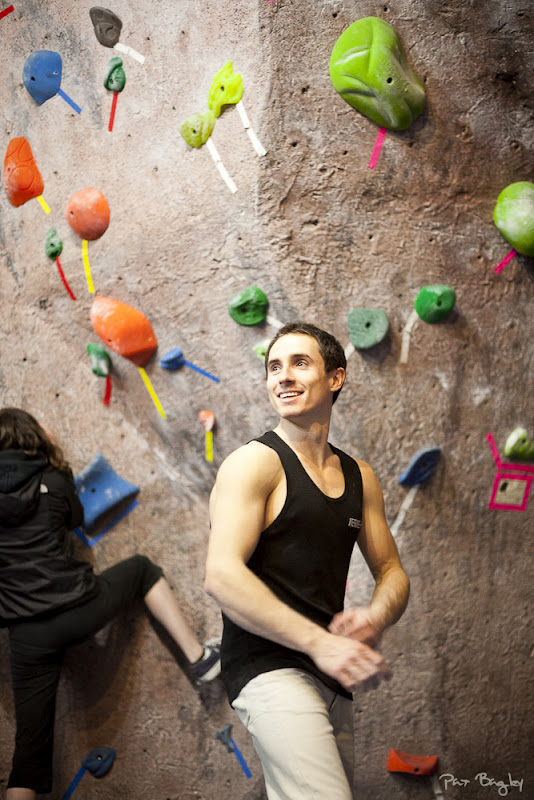 All Photos Courtesy of Pat Bagley
The morning arrived quickly and soon enough I was pulling on my shoes for the qualification round.  After a brutally quick warm-up, I was on the attack.  In a little over an hour I managed to complete the top 5 hardest problems in the red point round and land myself in a three way tie for first with Daniel Woods and Alex Johnson.  I was definitely feeling strong, yet understandably, a bit tired.  None the less, I was very excited for finals.  After a disappointing finish in last year's comp, I was determined to make my way onto the podium.
…And determination goes a long way.  After a solid finals round, I ended up with a 3rd Place finish.  Psyched!  I made a few mistakes and definitely didn't climb perfectly, but that's just how it goes.  Daniel Woods flashed everything to solidify his 1st Place finish, and Rob D'Anastasio brought the power to land himself in 2nd.  Nice work guys!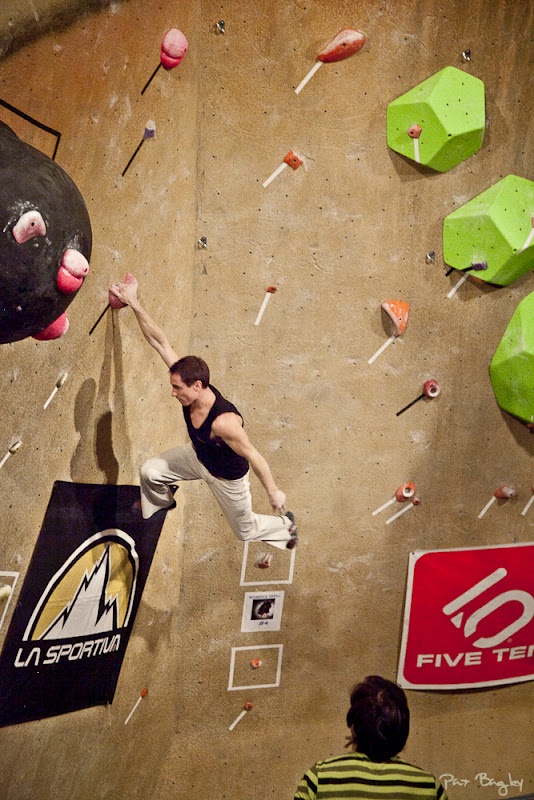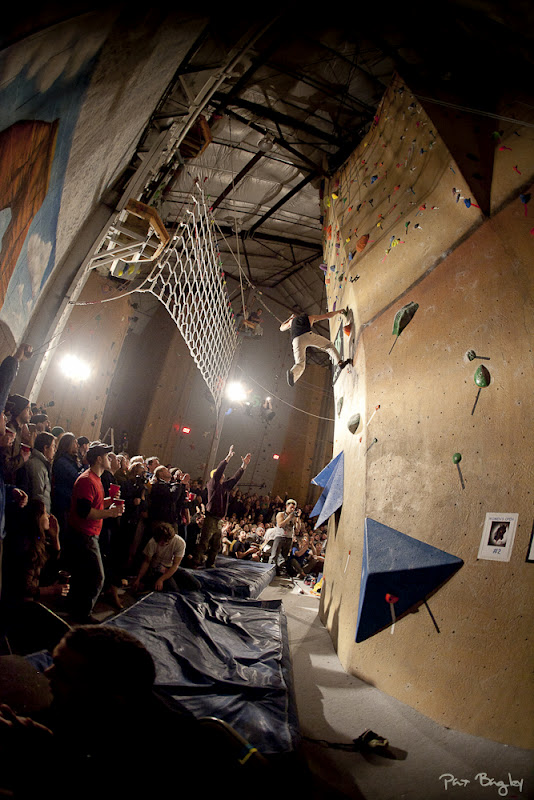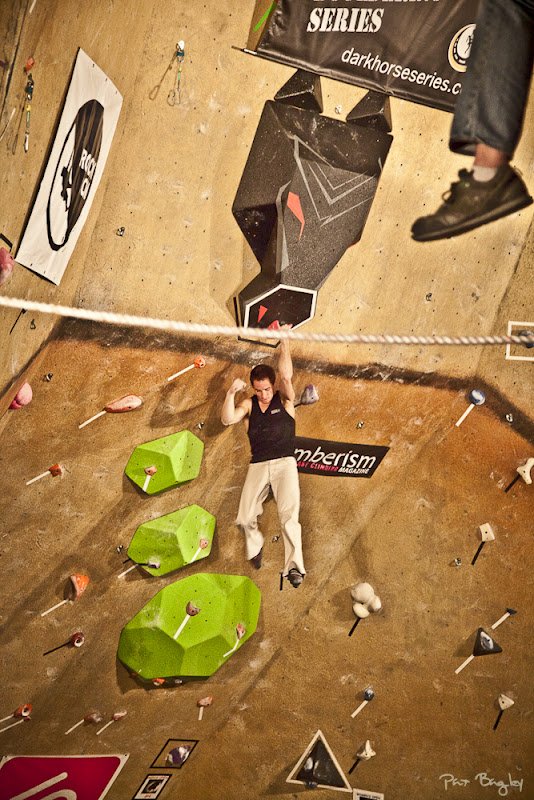 Overall, the 2012 Dark Horse Championships was by far one of the best comps I've ever attended.  The hospitality provided to the athletes was second to none.  This has been an area of weakness in all climbing competitions of the past, and I look forward to future competition organizers taking Metro Rock's lead on this one.  A free place to stay, travel help, food, a place to relax at the comp, and a personal thanks for attending from the gym ownership goes A LONG WAY with ensuring that top athletes will continue to provide a show for the Boston community for years to come.  Last, but not least, the route setting.  Wow!  Dave Wetmore, Josh Larson, and everyone else who helped set:  BIG PROPS!  Despite being a bit reachy (a token comment from me), the finals problems were some of the best I've climbed on in a long time.  Creative, difficult, aesthetic, and showy.  And the girls problems looked just as good.  The setting crew for ABS Nationals next weekend have their work cut out for them…